Digital Flow Meter
Digital Display Rate & Total – Option RW3
Remote Digital Display Rate & Total – Option RD-1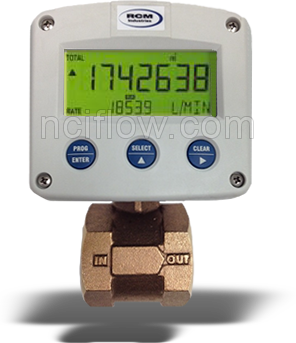 The RCM Digital flow meter display is a 2 wire loop powered 4-20mA DC transmitter features 7 digits for flow rate and 11 digits for accumulated total. On-screen engineering units are easily configured, while different units for flow rate and total can be displayed simultaneously. A wide selection of options further enhances this models capability. Optional back-lighting is available for easy viewing.
Wet/wet differential pressure sensor is protected by an isolated stainless steel diaphragm for measuring liquids, gases and conductive flow media.
The digital display can be connected as a remote display (option DR-1) to our 4-wire transmitter output option W (4-20mA linear output signal), 2-wire loop powered transmitter option W2 or W3 (4-20mA loop powered signal) output is proportional to flow rate squared or our 2-wire loop powered transmitter option RW3 which is self-contained and complete.
RCM Industries has been manufacturing quality flow measuring products for over 35 years for end-users and OEM applications.
Standard Features:
15 Point Linearization of Flow Curve
Displays Instantaneous Flow Rate, Total & Accumulated Total
Large 17mm (0.67) Digit for Flow Rate or Total
Operational Temperature -30 to 80C (-22 to 178F)
Rugged Enclosure IP67/NEMA 4X Rated **
Wet / Wet Differential Pressure Sensor
Amber or Green Backlighting (Optional)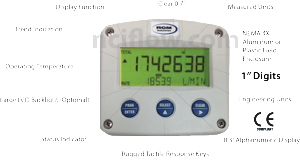 ** IP67 indicates that this enclosure is dust-tight and water-tight up to 1 meter immersion depth.
** NEMA 4X Enclosure Characteristics:
Indoor or outdoor use, including offshore applications
Protection against windblown dust and rain
Protection from splashing water and hose-directed water
Corrosion-resistant
Standard Specifications:
Accuracy: ± 3% F.S.
Repeatability: ± 1% F.S.
Pressure Max.: 180 psig (12.6 kg/cm2)
Pressure Min.: 10 psig (0.67 kg/cm2)
Temp. Max.: 212ºF (100ºC)
Temp. Min.: -30ºF (-34ºC)
IP67 / NEMA 4X Rated Enclosure
Electrical Rating:
Power Input:
100mA, 24Vdc power supply 20-30Vdc (Not Included)
Input loop powered from 4-20mA signal. Voltage drop max. 2.6V
Display:
Rate Display:
High intensity reflective numeric and alpha numeric LCD, UV resistant
User definable, 8 times/sec – 30 secs.
Password Protection
7 and 11 digit various symbols and measuring units
Environmental:
Operating Temperature: -30ºF (-34ºC) to 212ºF (100ºC)
Humidity: 0-90% Noncondensing
Accuracy:
0.5% F.S. (Non-linearity, Repeatability and Hysteresis
Stability:
0.5%F.S./year
Signal Inputs:
Full Scale Range: 4 to 20 mA DC
Loop Voltage Drop: 2.6 Volts Max. at 20mA
Update Time: 4 times/sec.
Span: 0.001/999,999 with available decimal position
16 Bit resolution, error < 0.01mA/+- 0.05% F.S.
Low cutoff supplied to inhibit indications at low flow rates
Signal Ouput:
The pulse output transmitting accumulated total
Type: one passive transistor output (NPN)
Max. 500Hz pulse length user definable between 1 msec up to 10 sec.
Calibration & Operation:
Input Scaling: Via front keypad
Decimal Point: Via front keypad
Reset Input: Via front keypad
Keypad: 3 tactile feedback keys