Mechanical Flow Meters with Flush / Purge Systems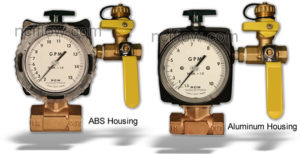 Sturdy in-line, metal construction and large easy to read dial calibrated in engineering units (GPM, LPM, & cc/m) available in Bronze and 316SS.
This is a version of our mechanical meter with an ABS or Aluminum housing that has integrated components to allow for easy flushing and winterization. This meter can be connected to a flow of water or other solution to clean out the inside workings to prevent clogging of sensitive internal components. In addition, this version can easily be purged to prevent damage from freezing liquids in systems that require winterization. Originally designed for the latex modified concrete industry, this versatile meter will provide years of low maintenance operation.
Features and Benefits
3.5" (90mm) 270° analog dial for reading at a glance
Suitable for use with opaque and clear fluids.
Measures 6:1 range with ± 3% F.S. accuracy
Dial and case factory configured for quick installation – but easily field re-configured if needed
Liquid flow ranges from 4 GPH (15 l/h) in 1/2" flow meter to 3000 GPM (12000 l/m) in 8" flow meter.
Typical Applications
Water
Latex Modified Concrete
Water Soluble Paints and Solutions
Principle of Operation
Our flush / purge flow meters are built around our standard rugged flow meter construction with an integrated equalizing valve and 3-way ball valve designed to flush and/or drain fluid from the flow meter pressure ports and bellows chamber which prevents the fluid from solidifying or freezing in harsh environments.
RCM Flowmeter Specifications
| Specifications | Standard | Optional |
| --- | --- | --- |
| Series 7000 | FNPT (threaded) Standard | |
| Series 8000 | Wafer unit mount between 150 or 300 class flanges. | |
| Housing | UV Stabilized Polycarbonate | Aluminum |
| Body | Bronze | Monel / 316SS |
| Bellows | Bronze | Monel / 316SS / Inconel |
| Seals | Buna N | Viton / EPR / Teflon |
| Crystal | Polycarbonate | Glass |
| Gear Movement | Bronze | 316SS |
| Accuracy | u00b1 3% F.S. | u00b1 3% F.S. |
| Repeatability | u00b1 1% F.S. | u00b1 1% F.S. |
| Maximum Pressure | 180 psig (12.6 kg/cm2) | 400 psig (28.1 kg/cm2) |
| Minimum Pressure | 10 psig (0.67kg/cm2) | 10 psig (0.67kg/cm2) |
| Maximum Temperature | 212 F (100 C) | 350 F (177 C) |
| Minimum Temperature | -30 F (-34 C) | -80 F (-62 C) |