Gas Flow Meters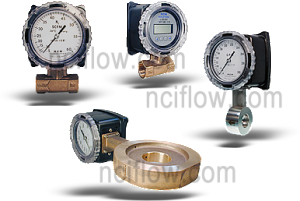 The RCM gas flow meters are well suited to monitoring compressed air flow rates. These meters plumb directly into the pipelines and require no external power connections. Use these meters to determine the air consumption of tools for improved accounting and increased efficiency. The Flo-Gage flow meter has been developed for industrial applications where durability and reliability are important considerations in the monitoring of flow. The Flo-Gage has accuracy for most industrial processes and is particularly suited for applications where compactness, low cost, minimal maintenance and resistance to accidental damage are important factors. Other compressed gases can be monitored as well. Common gases monitored include nitrogen, oxygen, argon, carbon dioxide, natural and LP gases.
All meters are available in either threaded or flanged connections and in Bronze, Monel or 316SS.
Standard Features:
Sturdy in-line metal construction to withstand piping stresses without breaking.
Black on white dial won't crack, glaze or become hard to read with age.
Expanded 3.5″ (90mm) 270° analog dial for reading at a glance.
Suitable for use with both opaque and clear fluids.
Measures 6:1 range with 3% F.S. Accuracy.
Dial and case factory configured for quick installation – but easily field re-configured if needed.
Gas flow ranges from 40 SCFH (1 Nm3/h) in 1/2″ meter to 20,000 SCFM (600 Nm3/m) in 8″ meter.
Take the RCM Series 7000 for a Spin !
| Specifications | Standard | Optional |
| --- | --- | --- |
| Series 7000 | FNPT (threaded) Standard | |
| Series 8000 | Wafer unit mount between 150 or 300 class flanges. | |
| Housing | UV Stabilized Polycarbonate | Aluminum |
| Body | Bronze | Monel / 316SS |
| Bellows | Bronze | Monel / 316SS / Inconel |
| Seals | Buna N | Viton / EPR / Teflon |
| Crystal | Polycarbonate | Glass |
| Gear Movement | Bronze | 316SS |
| Accuracy | u00b1 3% F.S. | u00b1 3% F.S. |
| Repeatability | u00b1 1% F.S. | u00b1 1% F.S. |
| Maximum Pressure | 180 psig (12.6 kg/cm2) | 400 psig (28.1 kg/cm2) |
| Minimum Pressure | 10 psig (0.67kg/cm2) | 10 psig (0.67kg/cm2) |
| Maximum Temperature | 212 F (100 C) | 350 F (177 C) |
| Minimum Temperature | -30 F (-34 C) | -80 F (-62 C) |